TÜV AUSTRIA TVFA Prüf- und Forschungs GmbH
As an independent testing laboratory accredited according to EN ISO/IEC, we carry out a wide range of tests in the field of railway technology. In our laboratories, infrastructure components from sub-ballast mats over sleepers, fastening systems, rails to the overhead conductors and catenary components are subjected to in-depth testing.
On rolling stock components, we carry out strength and fatigue tests on bogie frames, engine mounts, axle box bearings, wheelsets and rubber composite components (bearings, springs, etc.).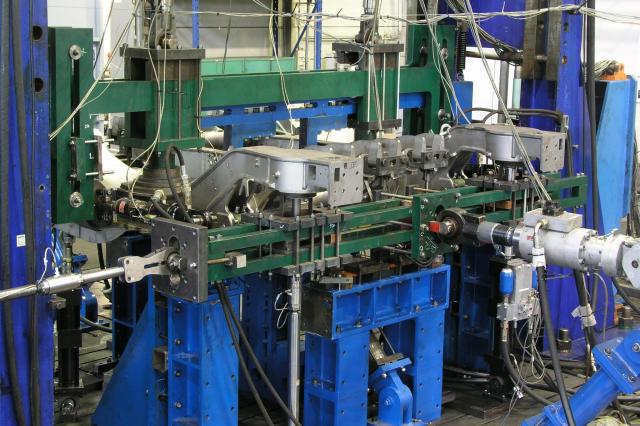 Technologies and Competences
Static and fatigue tests on infrastructure components, bogie frames, mounts, etc.
Conception, definition and preparation of the test incl. fixture construction
DMS application and data evaluation
Testing and approval of welding processes
Corrosion testing, salt spray tests
Environmental testing (climate chambers)
Chemical analyses and metallography
Damage analyses of components in accordance with VDI 3822
Testing equipment (selection)
Multi-axial test rig, size of 13 x 20 m, 32 control channels up to 650 kN, iterative software
Tensile testing machines up to 45 MN and 20 m clamping length
Compression testing machines up to 18 MN
Electro-dynamic testing up to 400 kN, 200 Hz
Standards & Certifications
EN ISO/IEC 17025 Testing laboratory
EN ISO/IEC 17020 Inspection body
EN ISO/IEC 17065 Certification body
Isolierstöße ÖBB 07.09.26 insulated rail joint | Technical delivery conditions for track / requirements for track components
EN 13146-1 Railway applications - Track - Test methods for fastening systems - Part 1: Determination of longitudinal rail restraint
EN 13146-2 Railway applications - Track - Test methods for fastening systems - Part 2: Determination of torsional resistance
EN 13146-3 Railway applications - Track - Test methods for fastening systems - Part 3: Determination of attenuation of impact loads
EN 13146-4 Railway applications - Track - Test methods for fastening systems - Part 4: Effect of repeated loading
EN 13146-5 Railway applications - Track - Test methods for fastening systems - Part 5: Determination of electrical resistance
EN 13146-6 Railway applications - Track - Test methods for fastening systems - Part 6: Effect of severe environmental conditions
EN 13146-7 Railway applications - Track - Test methods for fastening systems - Part 7: Determination of clamping force and uplift stiffness
EN 13146-9 Railway applications - Track - Test methods for fastening systems - Part 9: Determination of stiffness
EN 13230-1 Railway applications - Track - Concrete sleepers and bearers - Part 1: General requirements
EN 13230-2 Railway applications - Track - Concrete sleepers and bearers - Part 2: Prestressed monoblock sleepers
EN 13230-3 Railway applications - Track - Concrete sleepers and bearers - Part 3: Twin-block reinforced sleepers
EN 13230-4 Railway applications - Track - Concrete sleepers and bearers - Part 4: Prestressed bearers for switches and crossings
EN 13230-5 Railway applications - Track - Concrete sleepers and bearers - Part 5: Special elements
EN 13481-2 Railway applications - Track - Performance requirements for fastening systems - Part 2: Fastening systems for concrete sleepers
EN 13481-3 Railway applications - Track - Performance requirements for fastening systems - Part 3: Fastening systems for wood sleepers
EN 13481-4 Railway applications - Track - Performane requirements for fastening systems - Part 4: Fastening systems for steel sleepers
EN 13481-5 Railway applications - Track - Performance requirements for fastening systems - Part 5: Fastening systems for slab track with rail on the surface or rail embedded in a channel
EN 13481-7 Railway applications - Track - Performance requirements for fastening systems - Part 7: Special fastening systems for switches and crossings and check rails
EN 13481-8 Railway applications - Track - Performance requirements for fastening systems - Part 8: Fastening systems for track with heavy axle loads
EN 14587-1 Railway applications - Infrastructure - Flash butt welding of new rails - Part 1: R220, R260, R260Mn, R320Cr, R350HT, R350LHT, R370CrHT and R400HT grade rails in a fixed plant
EN 14587-2 Railway applications - Track - Flash butt welding of rails - Part 2: New R220, R260, R260Mn and R350HT grade rails by mobile welding machines at sites other than a fixed plant
EN 14587-3 Railway applications - Track - Flash butt welding of rails - Part 3: Welding in association with crossing construction
EN 14730-1 Railway applications - Track - Aluminothermic welding of rails - Part 1: Approval of welding processes
EN 13749 Railway applications. Wheelsets and bogies. Method of specifying the structural requirements of bogie frames
UIC 515-4 Passenger rolling stock - trailer bogies - running gear - bogie running gear - bogie frame structure strength tests
UIC 615-4 Motive power units bogies and running gear bogie frame structure tests
Last Update: 17 Aug 2021